I used to be a bread delivery man!  My 3am alarm would start me on my day to deliver Wonder Bread to towns and villages in the Bradford and Newmarket area.  My wife, Monica and I lived in Bradford with our 3 daughters, Charlet, Ava and Mercedes.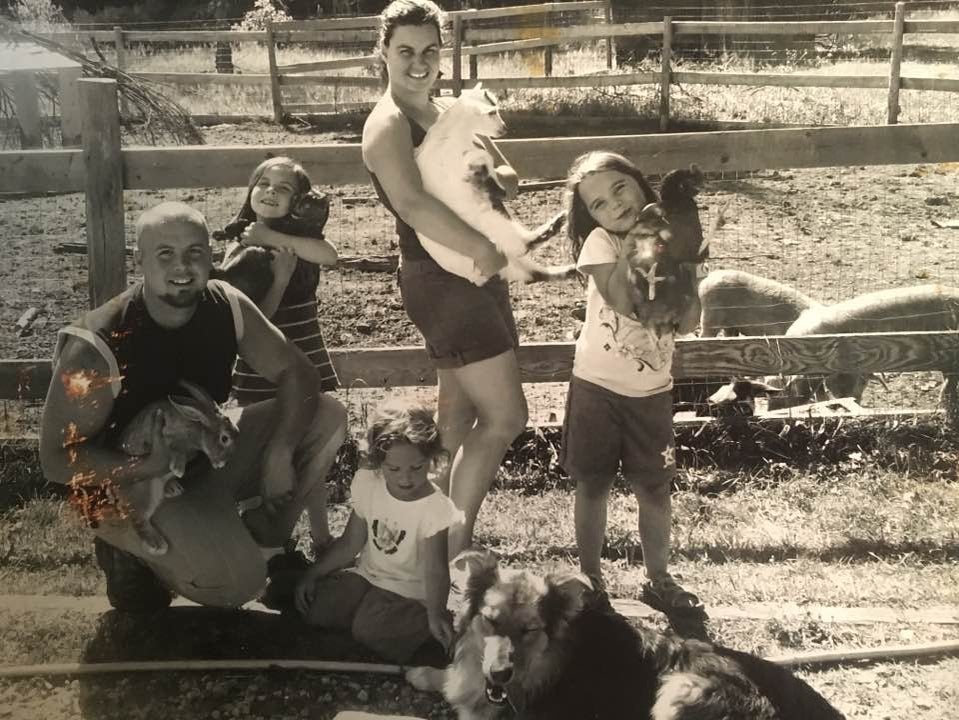 One day we decided to buy a farm!  Well, it wasn't exactly a farm.  It was more like 3 acres in a swamp with an old barn of sorts and an old house.  In hindsight, the house was likely a mobile home with 5 additions on it!  I had about one month to renovate it before I moved the family in.  

It was awesome! 

In our first year with our 'funny farm' we went all in.  We bought a pregnant cow for milking, goats who later birthed little kids, pigs (my favourite), meat birds, hens, rabbits and what farm wouldn't be complete without a few barn cats and a dog!  Oh, and of course we had a massive garden! 
 My 3am alarm became 2am, as I headed out to milk Rosy before work, and then again after work.

Well this wet our appetite, so we took to Realtor.ca to see if we could find a bigger farm.  Ugh.. everything was way out of our price range.  So we did what everyone does.  We made the map bigger... and bigger... and then we saw Owen Sound!  Hmm.. 
Reason #1 - It Had Everything We Needed
The 'City' of Owen Sound, while not quite a city by the numerical standard, is quite developed.  It has the shopping centres, a great Hospital (where my pregnant Monica would deliver our 4 child, Michael Jr.), loads of parks, and that water! Although we were homeschoolers, Owen Sound also had a lot of great options for schools too. 
Reason #2 - Georgian Bay (Plus all the inland lakes)
If there's one amazing reason to move to Owen Sound, it's to have one of the largest bodies of freshwater
in the world
in your backyard!!!  Georgian Bay has something for everyone!  For me, it was buying my first boat and taking up down-rigging for trout and salmon and pulling the kids on the tube.  For my kids, it was heading to Kelso Beach and Big Bay for a swim.  For my wife, it was heading out to Hibou to catch a sunset with her favourite guy.  (Me!) 
Reason #3 - Old Town Charm
We didn't have to visit long to realize that Owen Sound is filled with charm and character.  This port town put up some magnificent structures in the early 1900's, and they continue to offer beauty and value to the city to this day.  From the old pub and hotels (Damnation Corner) to the 4 old churches (Saints Redemption)...
Downtown is beautiful.  Owen Sound is quite an artistic town.  Each road you turn down, you're sure to find something to do with music, or art.  You'll definitely want to stop into The Artist Coop, Heartwood Home and Barebirch.  
Reason #4 - The Real Estate was cheap
Ok, so by the time you're reading this, prices have gone up quite a bit.  All things considered, and according to stats, the Owen Sound and Grey Bruce Areas, are still very affordable compared to other parts of Ontario.   We ended up buying a 50 acre property south of Owen Sound in Chatsworth, which had a nice custom built bungalow and a couple of out buildings. 
Reason #5 - The City of Opportunity
If you thought I liked waking up at 3am, you'd be wrong.  I actually hated it!  I did enjoy many parts of my job, but the hours were atrocious.  Deep in my blood, I'm an entrepreneur, so without a clear idea of what I would do for a living, we sold the bread route and moved to Owen Sound!  
My first business was to start a real estate photography service.  After a short period of time, my interest for real estate was piqued and I decided to get my real estate license.  Fast forward 8 years, and I own one of the area fastest growing real estate brokerages with 5 offices and 13 Realtors.  
We have since sold our Chatworth property and relocated to downtown Owen Sound!  It has it's pluses... and a few drawbacks.  :) 
If you have any questions about moving to Owen Sound, or would like a tour of the city, don't hesitate to reach out to me.  
Mike Seiler, Broker of Record
519-375-6585